a slacker i am!
all u need is another slacker like me. oh, please. i'm beginning to hate me.
sorry folks for the gaps i leave these few days. i've been very busy n try to post some thoughts but i failed. dn hv the time here in the office, the only place i can use the internet freely as i don't hv internet connection at home. zilch!
oklah. my weekend was great. went to an ex-mate wedding, muzzan shazmin imra kat dewan merak kayangan in jln semarak and met up with old friends there. imagine la.. my primary skoolmate from ssj tau! ada yg lama gile tak jumpa..
haa... yg kawin tu,yg tgh senyum2 with thick-framed glasses tu. sebelah dia mariam, makcik pink stiletto, fatimah and gaudy-looking moi! hahahaa.. LOL! it was taken back in 1991, std 6 ssj. masa ni we were at fatimah's open hse.. raya la..
i'll show u a pic of us masa wedding tu, all beautifully grown up, looking great and all with exception from pink stiletto cuz she wasn't there at the wedding. (psst! dia kata dia tak dpt kad pon.. aww! jgn la sedih..)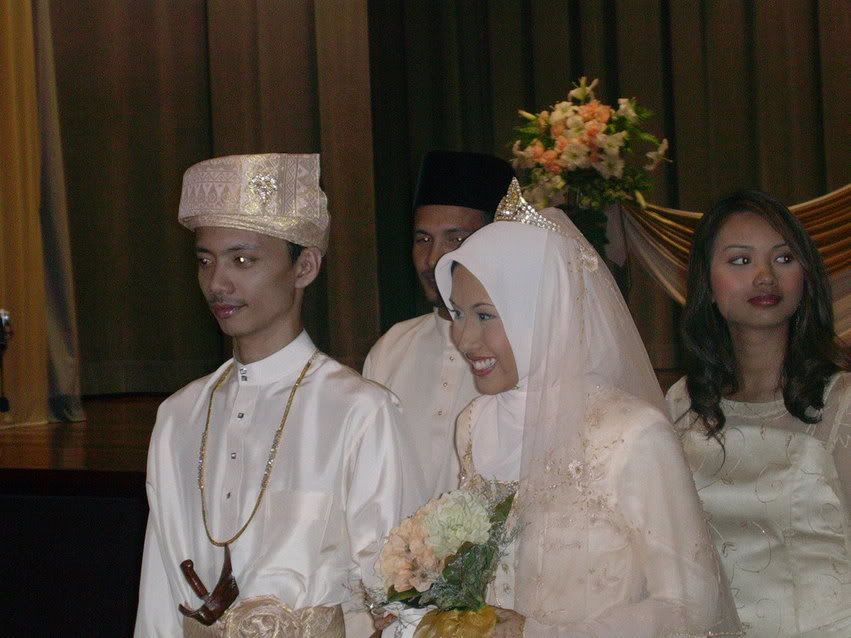 the thick-framed glasses with curly hair bride with her groom. ever sweet looking muzzan..
this one, muzzan's wedding in a nutshell. note the beautiful gurls i mentioned earlier? simply gorgeous! ~chuckle!~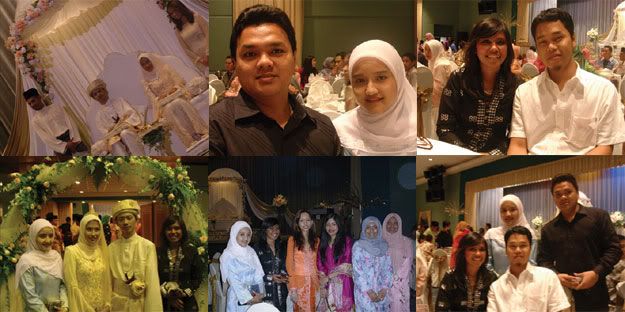 need i say more?
so, we chatted like half an hour or so.. jez to catch things up with each other. am i glad to see u guys!
b and i went back to subang after a brief stop @citibank - sigh.. byr hutang la. we were taking our own sweet time by heading subang via federal hi-way, only to know that we were stuck in a massive traffic somewhere near pj @almost 12 midnite! gile betul! sampai rumah je, billa told me that my uncles n aunties jez left our hse (earlier on, my mom buat open hse for her friends..) not knowing that my uncle and aunt from gombak would come, and this time she came in complete with her daughters n only son. i've been wanting to see her daughter, my cousin ati for so long! but i missed. if only billa told me earlier...
regret, i went straight to my room and heard my lil niece's voice. tak tido dah kul 12 lebih! i peeked thru her mom's door, and there she was.. grinning mischievously at me! notty!
after much hype with qistina, i cleaned myself up and went down to hv a session of monopoly with billa, b and 2 other cousin, syikin n alin...
i'm not good with monopoly tho! i was the first person to be declared bankruptcy that day.
a slacker i am?